English language levels The Complete Guide to Determine English Proficiency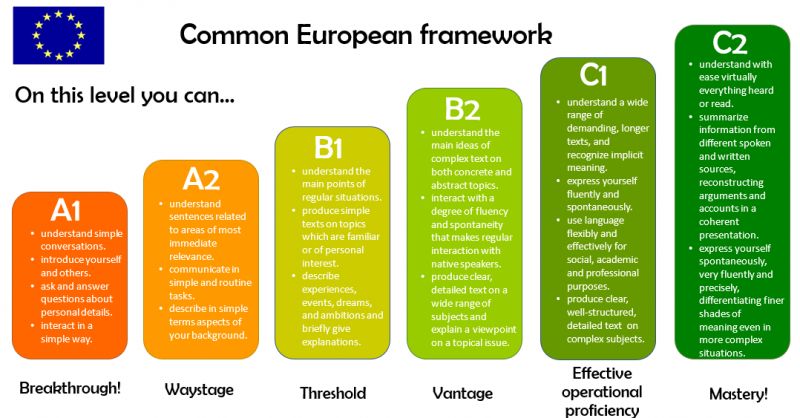 Description of English language levels:
The British Center uses the Common European Framework of Reference for Languages (CEFR) to assess students' English language skills. The six reference English language levels are widely accepted as a global standard for assessing an individual's language proficiency.
Beginner (N / A)
He has never spoken English before. Can pronounce simple and easy words with the help of a dictionary.
Elementary (A1)
Can communicate in simple sentences if the people with whom he communicates speak slowly and clearly. Introduce yourself and others, where you live, who you know, and so on. can speak in simple sentences.
Pre-intermediate (A2)
Can use simple language to provide information about his / her biography and surroundings. Can communicate at a simple level by exchanging information on familiar and familiar topics.
Intermediate (B1)
Can communicate freely and effectively on familiar topics. He can cope with many conversations that he encounters in places where he speaks English on his travels
Upper Intermediate (B2)
Can express himself / herself in detail and clearly on different topics and reflect his / her worldview by revealing the positive and negative aspects of a topic. He can communicate with a native speaker using a certain amount of natural and fluent language without much difficulty.
Advanced (C)
It can express itself fluently through texts that contain details that clearly show the connections and relationships in complex topics. Can understand long and complex texts with different structure and can understand indirect explanations in these texts.
Proficiency (C2)
You can use English easily and fluently. You can read materials in English independently to improve your English.
2022.02.09 / 17:54
---
---